Belladonna Plaster clinically proven relief for aches & pains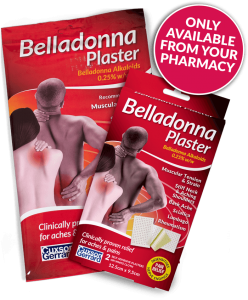 Belladonna Plasters provides relief from the following:
BELLADONNA PLASTER PRODUCT INFORMATION: Belladonna Alkaloids (as Hyoscamine) 0.25% w/w. Indications: For the relief of aches and pains, such as – muscular tension and strain, stiff neck and aching shoulders, sciatica, lumbago, rheumatism, backache. Legal Category P.
Product Authorisation Holder Cuxson Gerrard & Co. Ltd.
Information about this product, including adverse reactions, precautions, contraindications and method of use can be found at: http://www.mhra.gov.uk/home/groups/spcpil/documents/spcpil/con1479450665937.pdf
Contains Belladonna Alkaloids. Always read the label.